Plan your dream vacation, join me in Tuscany, Italy from October 15 to 23, 2019, for an exciting 8 days photographing this picturesque region!
Historic walled cities, charming villages, sprawling wineries and ancient cathedrals, these are just some of the places we will visit on this fall photography workshop in beautiful Tuscany. Italy is gorgeous any time of year but autumn provides some of the best photographic opportunities and we'll enjoy capturing them all.
Whether you're an experienced shooter or are just picking up your camera for the first time, all will come away with stronger skills in exposure, composition and camera settings. We'll maximize our time in the field photographing and will be learning hands-on. Our group size will be 8 to 10 people so whether we're exploring the Tuscan countryside or the city of Siena, everyone will get plenty of one on one instruction.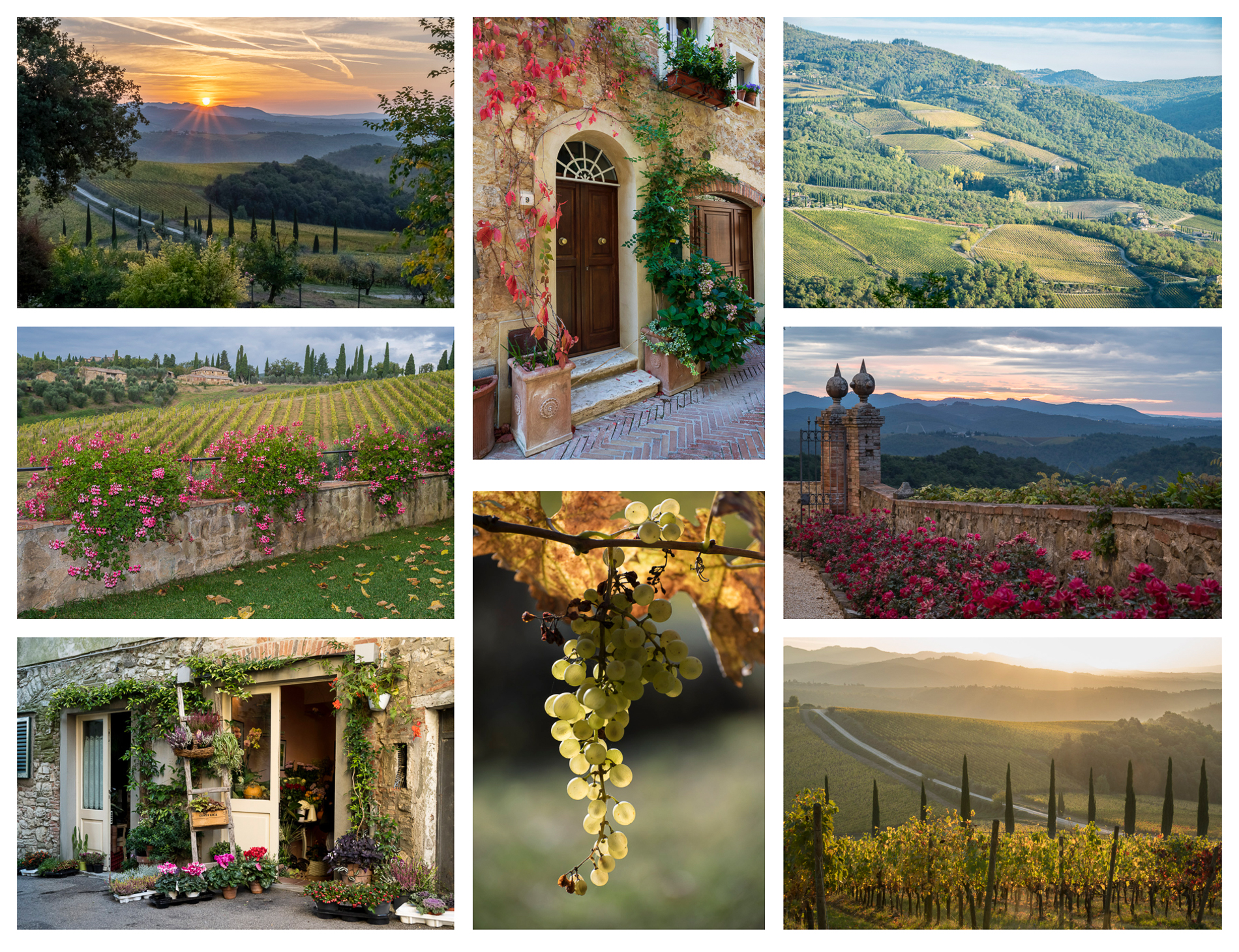 Although any camera will do, we recommend one with exposure controls such as a DSLR or mirrorless camera for more creative exposure techniques and compositions.
This workshop is offered through Il Chiostro at their annual Autumn Arts Festival held at the Dievole Chianti Classico Winery.
They offer 3 separate workshops: Painting with Lynn Stender, Tuscan Cuisine with Linda Mironti and Andrea Anichini, and Photography with Marie Joabar.
Generally, your workshop will shape your activities at the Festival. For example, the cooking class may go olive picking while the painters spend the day in Radda painting the vistas of the Tuscan hills and the photographers travel to Montalcino or Pienza for a full day shoot. Then everyone will return to the winery in the evening for the opera class and dinner together.
In addition to enjoying 1 of the 3 workshops, there are several other general activities and excursions that are open for all to participate in, such as;
Wine tasting and winery tour throughout the Dievole complex to give you a good understanding of Chianti's greatest treasure, red wine.
A visit to the medieval city of Siena with time to explore the Duomo, the art museums, sit in the Piazza del Campo with a cappuccino or shop the elegant stores along the main pedestrian street.
A mid-week pig roast - a harvest feast in the tradition of a typical Tuscan celebration.
Dinner in the old wine cellar with local musicians and the chef's most special harvest meal from antipasto to dolci.
Italian Opera appreciation classes every evening before dinner.
Various topical excursions with your class.
A half day trip to hill-towns like San Gimignano, Castellina or Monteriggioni
Most activities take place in and around the 900 year old Dievole estate & vineyard.
Read more about the Photography Workshop at the festival
https://www.ilchiostro.com/workshops/autumn-arts-festival-travel-photography/?
Read more about the Autumn Arts Festival
https://www.ilchiostro.com/autumn-arts-fest
Read more about DIEVOLE Winery
https://www.dievole.it/en/
Limit: 8-10
Price: $3,690 per person
Early Bird Discount of $100 if registered by April 15, 2019.
Fee includes:
Lodging inDievole's 16th century inn and guest houses in the magnificent Tuscan hills. The entire facility recently underwent a major facelift transforming all rooms into spacious, luxury lodgings. Rooms are doubles or suites with modern bathrooms and heating.
2 meals per day (dinner with wine and full Tuscan breakfast)
Workshop tuition and fees (except where noted)
General activities (except where noted)
Transfers between Siena train or bus station and Dievole
Il Chiostro is handling the registration for this. Any questions can be directed info@ilchiostro.com or call and speak to them in person at 800-990-3506.